Employee Spotlight Questions
Michelle Choi Junior Data Scientist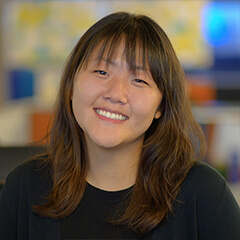 When did you start working for TMP?
November 2018
What is your current role and responsibilities?
As a Junior Data Scientist, I work with the Data Science Engineering team to create predictive models that classify and organize TMP's data.
What does your department do?
The Data Science Engineering team researches and implements technologies to better understand the data that we have been gathering via TalentBrew — TMP's career site platform. The team's routine includes cleaning data, training models and pipelining ETLs, as well as providing APIs for servicing these models.
What other roles have you had while at TMP?
This is my first role at TMP.
What do you think is the best part about working at TMP?
My boss is always encouraging my professional growth and development as a programmer, which is exactly what I was looking for in my first full-time job after graduating college.
What's one interesting fact about yourself that your coworkers don't know?
I fully embrace being a middle child.