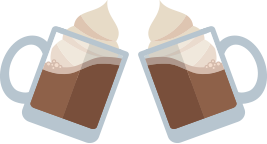 Ingredients
4 cups whole milk
2 tablespoons granulated sugar
1 cinnamon stick
6 ounces of dark chocolate
Pinch of salt
(Yields 2 servings)
Directions
Mix sugar and milk. Add cinnamon stick and simmer mixture until just before a boil. Take off heat and cover for 10 minutes to let cinnamon stick steep.
In a separate container, melt chocolate.
Remove the cinnamon stick and combine the milk, melted chocolate, and a pinch of salt. Wisk gently until milk and chocolate are fully blended. Pour mixture into two mugs and enjoy!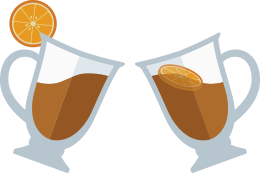 Ingredients
4 cinnamon sticks
1/8 teaspoon cloves
8 whole allspice berries
Peel from 1 orange
Peel from 1 lemon
½ cup of honey
6 cups of unfiltered apple juice
(Yields 12 servings)
Directions
In a medium saucepan, combine cinnamon sticks, ground cloves, allspice, orange peel, lemon peel and apple juice. Add in the honey and bring the mixture almost to boil.
Before boiling, reduce heat and simmer for 30 minutes. Serve warm.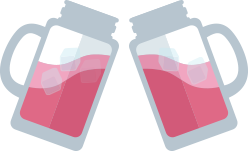 Ingredients
1½ cups rose syrup
1 cup evaporated milk
5 cups cold water
red or pink food coloring
Ice for serving
(Yields 6 servings)
Directions
In a pitcher, mix the rose syrup and evaporated milk. Then mix in the cold water.
Add in food coloring to reach the desired pink color.
Pour into glasses filled with ice to serve.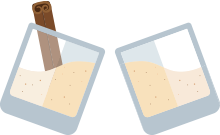 Ingredients
6 eggs
1 (14 ounce) can of sweetened condensed milk
1 teaspoon vanilla extract
1 quart milk
1/3 pint heavy whipping cream
½ teaspoon ground nutmeg
1 pinch salt
Cinnamon or nutmeg for garnish
(Yields 11 servings)
Directions
Beat eggs and then mix in condensed milk, vanilla, quart of milk, nutmeg and salt.
Beat the whipping cream until soft peaks form. Fold the whipped cream into the egg and milk mixture.
Serve chilled with a sprinkle of nutmeg or cinnamon on top.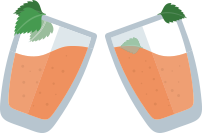 Ingredients
1 cup of fresh papaya cut into chunks
½ cup plain yogurt
½ cup whole milk
1 tablespoon of honey or sweetener
A heaping pinch of ground cardamom
(Yields 2 servings)
Directions
In a blender, blend the papaya, yogurt, milk, and honey until smooth.
Add a healthy pinch of ground cardamom and blend until well mixed.
Refrigerate mixture for 10 minutes, then pour into two glasses.